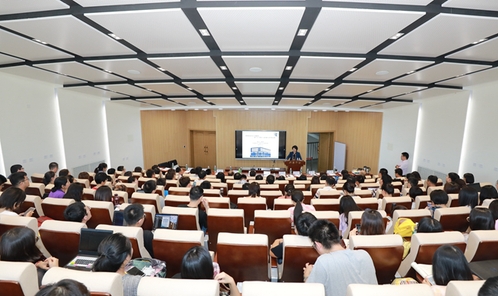 (Correspondent: Zhong Yiming) On September 27th, the Digital Economy Branch Forum of Nankai Cross-Science Forum was held in the Conference Hall of School of Economics. The leaders of School of Economics and Social Science Department attended the opening ceremony and presented commemorative certificates to the forum reporters.
During this forum, Professor Tang Yihong from Central University of Finance and Economics, Professor Yao Yi from School of Business of Nankai university, Professor Chen Bing from Law School of Nankai University, Doctor Huang Kaixing and Professor Bao Qun from School of Economics of Nankai University, Professor Chen Binkai from School of Economics of Central University of Finance and Economics, Professor Li Lei, Doctor Jin Wei and Professor Wang Yongjin gave keynote lectures entitled "The Impact of Intelligent Manufacturing on Exports", "Do Investors Turn a Blind Eye to Risk-Factor Disclosures by State-Controlled Firms?", "Legal construction of High-quality Development of Digital Economy", "The Effect of China's Domestic Public Storage on World Market Prices: The Case of Cotton", "Misreporting Trade", "Internet and Economic Growth", "Artificial Intelligence and Employment", "Does 'America First' Help America? The Impact of Country Image on Exports and Welfare", "Network Structure of International Trade" respectively.
The Nankai Cross-Science Forum aims to further enhance the academic atmosphere of anniversary celebration, promote the exploration of frontier issues in cross-science and display the academic achievement of high-end talents. This forum is also one of the important activities of School of Economics to promote cross-science research.