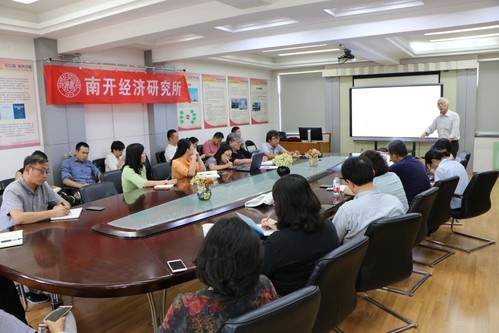 (Correspondent: Guo Shuyu) On the afternoon of September 24th, lecture "New Methods and New Issues in Customs Information Research", as an activity of Nankai University 100th Anniversary, was held in the 8th floor conference room of the College. The lecture was co-sponsored by School of Economics and Economic History Research Center. The speaker, Professor Hama Hiroshi, is a famous Japanese historian and sinologist. He is currently the Dean of the Asia-Pacific Research Institute of Sun Yat-sen University and Professor of the Japanese Toyo Library Research Institute. Professor Wang Yuru, Director of the Economic History Research Center of Nankai University held the lecture and discussion. Teachers and students of School of Economics and scholars of the Institute of History of Tianjin Academy of Social Sciences attended the lecture.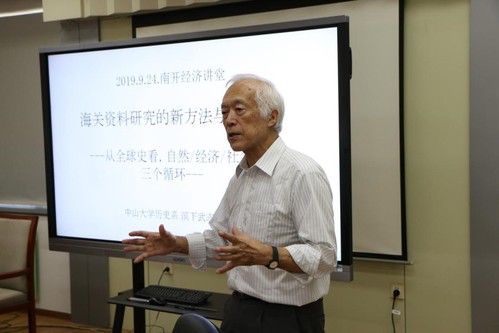 Firstly, Professor Hama Hiroshi introduced the difference between customs research and customs information research. Customs research mainly focuses on the study of taxation system, while the research of customs information includes regional or national postal system, education level and ocean river, in addition to the taxation system. Therefore, the study of customs information requires the establishment of a holistic and comprehensive research system. Nowadays, the division of disciplines are becoming more and more refined, but Professor Hama Hiroshi believes that the research and discussion of disciplines are not independent. The research of each discipline needs to take those relevant factors of related disciplines into account, with more mature methods of socio-economic history research and the mining of new data, providing a more systematic and ambitious perspective for current research.
Professor Hama Hiroshi pointed out that past research on social economic history is guided by the world history of the country, but now it needs to take the world view dominated by the global vision, which requires the ocean as an important historical space. And the in-depth mining of customs information has made it possible for such research. Under the guidance of the global view of history, Professor Hama Hiroshi discussed his three major systems of customs data research in great detail: the big cycle of natural resources, the medium circulation of the socio-economy market and the small cycle of local social life.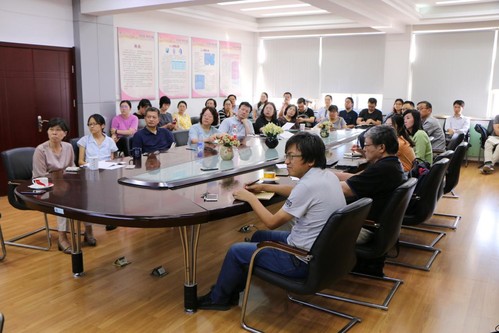 In the end, Prof. Hama Hiroshi summed up new topics of customs data research: the second generation of customs history research based on historical materials such as letters and diaries; adding new research perspectives based on the results of the first generation of customs research (hydrology, temperature, etc); interactive research on the three major cycles of nature, socio-economy and life; research on quantification, visualization, and spatialization and comprehensive research from discipline classification to discipline synthesis.
Prof. Hama Hiroshi provided a rich and ambitious research perspective on the study of customs information under the framework of large, medium and small three circles. There was a lively discussion among professor Wang Yuru, other teachers and students. The event was a complete success.