Speaker: Professor Zhang Xiaojing, Doctoral supervisor
Deputy Director, Institute of Economics, Chinese Academy of Social Sciences
Candidate for National Talents Project
Time: 2:30 p.m. ~ 4:30 p.m., October 16, 2019
Place: Conference Room on the Eighth Floor in the Building of Economics School
Organizer: School of economics, Nankai University
Collaborative Innovation Center for China Economy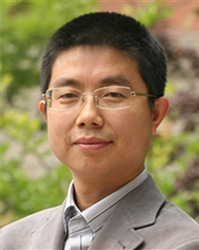 Introduction:
Zhang Xiaojing, researcher & deputy director of the Institute of Economics, Chinese Academy of Social Sciences; professor and doctoral supervisor of the Graduate School of Chinese Academy of Social Sciences; candidate for National Talents Project; recipient of Special government allowances of the State Council.
His main research areas are open economy macroeconomics, growth theory and development economics. He once conducted academic visits at Stockholm School of Economics (1999-2000), Harvard University and the National Bureau of Economic Research (NBER, 2006-2007), went to the International Monetary Fund for collaborative research (2009). He led the compilation and regular release of China's national balance sheet. He has long-term tracking of macroeconomy, participated in and presided over the research and evaluation of national "Eleventh Five-Year Plan", "Twelfth Five-Year Plan" and "Thirteen-Five-Year Plan" work.
Professor Zhang won the 11th and 12th Sun Yefang Economic Science Award, the first Sun Yefang Financial Innovation Award, the 5th China Soft Science Award and the 6th Zhang Peigang Development Economics Award.