(Correspondent: Zhao Hong) In order to further study, propagate and implement Jinping Xi's new era of socialism with Chinese characteristics, and to learn and implement the important thought of General Secretary JinPing Xi's work on youth and the spirit of the important speech of visiting Nankai, recently, the Communist Youth League Nankai University Committee launched the 20th Tianjin Youth May Fourth Selection of Medal candidates and selection of the May 4th Youth Medal of Nankai University in 2020. The event aims to give full play to the typical pioneering role of youth, cultivate advanced young people who are determined to be talented, courageous, and willing to dedicate, inspire the youth of the school to embrace the new era, and strive to advance the new era, and guide Nankai students to be become pioneers and devotees! Associate researcher Qilin Mao of our college won the 2020 May Fourth Youth Medal of Nankai University in the category of Young Research Worker.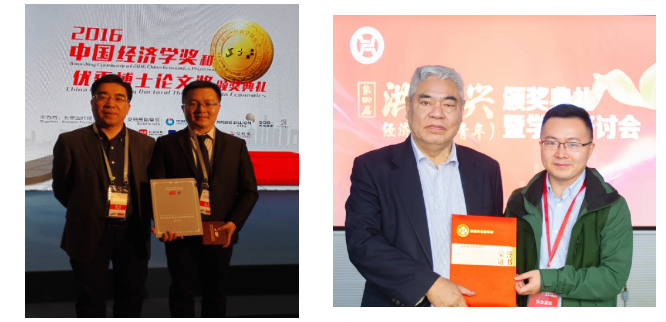 Qilin Mao, born in Pingyang County, Wenzhou City, Zhejiang Province, in 1986, worked in Nankai after obtaining a Ph.D. in Economics from Nankai University in 2013, and has been engaged in teaching and research work at the Institute of International Economics, School of Economics for seven years. The field is the world economy and international trade. Currently, he is the leader of 100 young subjects, associate researcher and doctoral supervisor of Nankai University. Since participating in the work, he has actively engaged in the construction of double first-class in the school, and has achieved fruitful and innovative results in academic research for the development of theoretical economics and world economics disciplines of Nankai University, especially for the improvement of the world economics disciplines of Nankai University. In addition, Qilin Mao also actively participated in the teaching reform of the school, and demonstrated excellent teacher ethics and teaching ability in the teaching work. The Foreign Topics in Modern Economics and Guidance and Writing of Economics Masterpieces courses for undergraduates, Innovative Research and Training and Multinational Corporations and International Investment courses for graduate students are widely praised by students.
His doctoral thesis Trade Liberalization, Heterogeneity, and Enterprise Dynamics (supervisor: Professor Bin Sheng) won the 2016 Excellent Doctoral Dissertation Award in Chinese Economics and the 2015 Excellent Doctoral Dissertation Award in Tianjin. Formed on the basis of his doctoral dissertation, the monograph was published in the State Press, the Commercial Press. At present, Qilin Mao has published more than 50 academic papers in important Chinese and English core journals as the first author or corresponding author, including: 5 papers in internationally important SSCI journals, such as, The World Economy, China Economic Review, The Economics of Transition, Reviews of Development Economics; 27 papers (of which 19 were published as the first author) in four recognized top journals of domestic economics in Economic Research, Management World, Economics (Quarterly), and World Economy; 4 articles in Economic Research (both are the first author and 2 are single-authored); 5 articles in Management World (4 first authors and 1 corresponding author), and 5 articles in Economics (Quarterly) ( All are first authors), 13 articles of World Economy (6 first authors, 7 corresponding authors). Qilin Mao presided over 3 national projects, including 2 National Natural Science Foundation projects and 1 Fok Ying Tung College of Higher Education Young Teachers Fund project. While doing academic research, he also actively devoted himself to the consultancy research work of think tanks. The consulting report, he provided for China's participation in the 2019 APEC Chile meeting was adopted by the Ministry of Commerce and the Ministry of Foreign Affairs.
Qilin Mao's research achievements have been widely recognized by domestic and foreign peer experts, and have produced greater academic influence in the field. In 2019, he won the 17th Young Teachers Fund of Higher Education Institutions of Fok Ying Tung Education Foundation (a total of 3). In 2017, he was selected as the Tianjin Youth Top Talent Support Program, and in 2018 was selected as a 100 Nankai University Support Program for Youth Discipline Leaders. In 2019, he won the most authoritative ministerial government award in China's business field--the first prize in the paper category of Business Development Research Achievement Award, and won the highest academic award in China's economic and trade field--An Zijie International Trade Research Award twice. He has won many important academic awards such as Tianjin Social Science Outstanding Achievement Award, the 4th Hong Yinxing Economics Award, and so on. Qiling Mao has successively 6 academic papers selected in the Top 10 Chinese Papers of the World Economic Yearbook (TOP10) and China Economics Yearbook 2015-2016. In 2019, he was selected as the top ten scholars in the first round of Double First Class Chinese Economic Journal of Construction Economy. According to CNKI statistics, his academic papers have been downloaded 100,000 times in the past 5 years and cited nearly 1500 times.