(Correspondent: Zhong Yiming) On the afternoon of September 29th, Mr. Wang Wu and his wife Ms. Li Wei donated 2 million yuan to Nankai University, of which 1 million yuan was used to set up the "Tongyuan Nankai Education Fund for Institute of Taiwan Economy", to encourage the student training, talent introduction, scientific research and teaching, cross-strait exchanges, academic preliminary edition and other aspects in the Institute of Taiwan Economy. Leaders of Nankai Alumni Association, School of Economics and School of Philosophy attended the donation ceremony.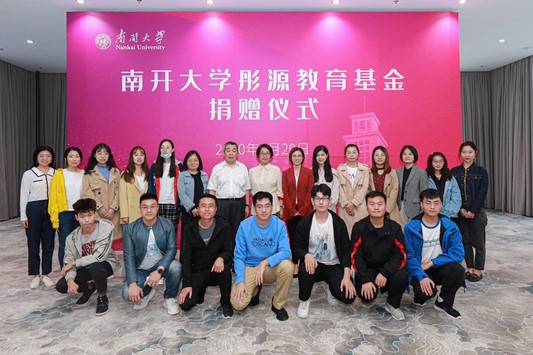 Mr. Wang Wu, a graduate of Institute of Taiwan Economy in 1992, has been engaged in securities investment for many years and founded Shanghai Tongyuan Investment Development Co., LTD. After their graduation from Nankai University, Wang Wu and his wife Li Wei still focused on the educational development of their Alma mater and tried their best to promote the history and culture of Nankai University. Li Wei attended the donation ceremony and reminisced deeply about imperceptible nourishment given by Nankai University.
On behalf of the School of Economics and the School of Philosophy, Zhu Guanglei, executive vice President of Nankai Alumni Association, thanked Wang Wu and Li Wei for their generous donation, and said that he would make full use of the donation to help the research of Taiwan Economy in Nankai University and contribute to the peaceful reunification of the two sides of the Taiwan Straits.